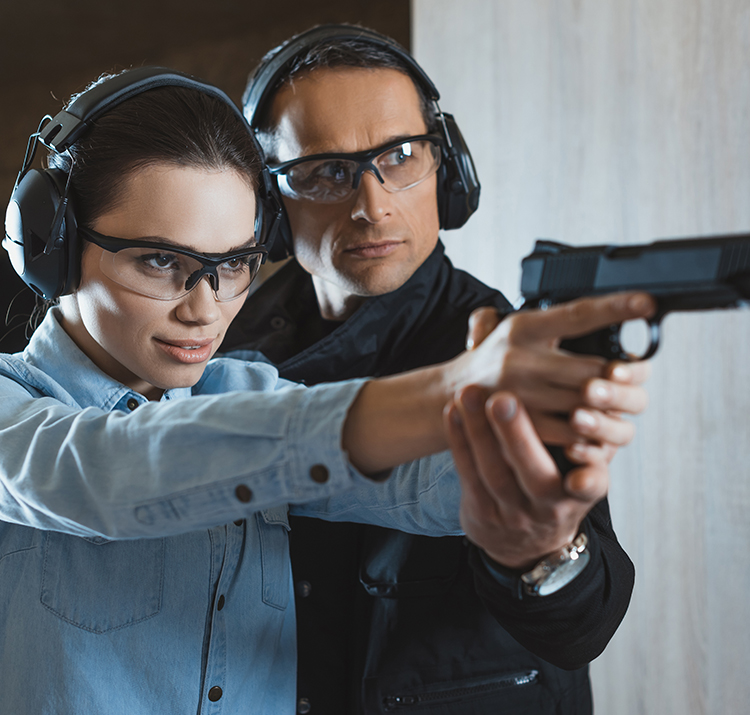 Tips for First Time Shooters
You've decided to visit the gun range as a first time shooter. Many first time shooters report that they were quite apprehensive about shooting a gun for the first time and were pleasantly surprised after their first visit. Though guns must be respected at all times, there is nothing to be afraid about when shooting a safe gun at a reputable shooting facility – especially if you're able to shoot with an experienced firearms instructor.
First Time Shooters
TAKE A FIREARMS SAFETY CLASS BEFORE YOU EVER PICK UP A GUN
Before you decide to go shooting at a gun range you should look into taking a gun safety class. It is extremely important to get a hands-on look at gun safety and how firearms function long before you're standing at the firing line.
PICK UP GOOD FITTING EYE AND EAR PROTECTION BEFORE YOU VISIT THE RANGE
While you can rent these at most gun ranges, you'll want to make sure that yours fit perfectly.
LEARN HOW TO SQUARE UP YOUR SIGHTS
Simply putting the front blade into the notch of the rear sight isn't enough. You need to learn how to properly square up your sights and develop a consistent sight picture when engaging a target.
CHOOSE THE RIGHT CALIBER AS A NEW SHOOTER
It makes no sense to belly up to the range with the latest bear-slaying magnum revolver in tow – you'll have little fun and the overall experience of shooting will be marred by sore hands and blistered fingers. A smaller caliber semi-auto pistol is a great choice for most new shooters.
EXPECT IT TO BE LOUD
Most new shooters are shocked to find out how noisy an indoor shooting range can be – and that's even when using quality ear protection. Part of the preparation as a new shooter is to prepare for this noise, as well as the concussive blast that accompanies each pull of the trigger.
HAVE FUN!!
Feel free to contact us with any questions or comments you have. We look forward to hearing from you!