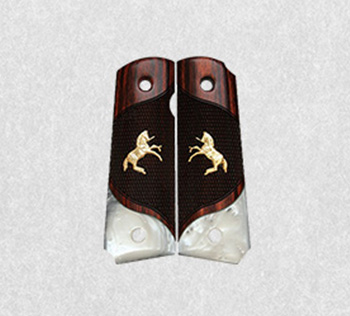 Altamont grips
Altamont grips
We are now pleased to bring you the very best in handgrips. Also, Altamont specializes in high-speed machining of wood and composite parts. This is for the sporting goods industry. Altamont has been producing innovative designs and products for the firearms industry. This is since our start more than forty years ago. Altamont started out making custom ivory grips for the Colt Custom Shop in the '80s. Then Altamont expanded to volume production. They now have worked with almost every major gun manufacturer. Beretta, Bond Arms, Browning, Colt, Heritage, Kimber, Ruger, Sig, Smith & Wesson. Also, Springfield, Taurus, and Walther. Altamont now has two divisions: OEM and Aftermarket. Also, they now offer custom textured handgun grips and rifle stocks. All Made in America. Altamont has two state-of-the-art facilities. They have over 200,000 square feet of manufacturing space in Illinois. They make products with precision CNC's, robotics cells, lasers, and American craftsmanship.
FOUNDATION
Kenneth N. Enright was the son of missionaries. Missionaries to Zaire in Central Africa and grew up speaking fluent Swahili. He earned a reputation as a tough and fearless hunter. He stood as buffalo charged. Courage was the currency that mattered. Ken came back to the US for college until his interrupted education by the Vietnam War. Ken served in the U.S. Army as a combat medic until his honorable discharge in 1970. Ken began manufacturing ivory blanks, jewelry findings, and buckle belts in 1981. This was under the name Midwest-Artan along with partner, Walter Shore. Shore was out of St. Joseph, Illinois. Midwest-Artan would become Altamont Co. soon after, Established 1977. Altamont commits to keeping manufacturing in the United States.
HISTORY
Altamont purchased their first permanent building location in 1989. This location is 40,000 square feet of space in Thomasboro, Illinois. Buildings were later added on as the company grew until the original land became filled. Altamont has since expanded to
multiple
plants in the central Illinois area. With more than 200,000 square feet of manufacturing and warehouse space. The 1990s were years of growth and development for Altamont. We had to develop processes and equipment to produce designs at high-quality levels. In 1992, Altamont introduced the first laser checkering to the industry. Since then, Altamont has continued to lead the industry in innovative laser textures.
CNC
Altamont also developed its CNC capabilities. This happened as the precision machining technology began to take hold. Altamont currently runs 50+ CNC's in full production. It was the pioneers of the company who laid the groundwork for the future. We honor Kenneth Enright, Denise Enright, Colin Weston, and Pat Little. Honored as founding members to whom we owe our present. Altamont became a volume handle producer while maintaining design and special edition focus. We have made millions of wood handles, 1911 pistol grips, and revolvers grips over the years. These
primarily
branded and sold as OEM product.
FOUNDATION
Altamont introduced the first G10 grips to the firearms industry. It became introduced for the Kimber 1911 Desert Warrior in 2003. Inspired by custom knife makers. We had little idea of how popular and widespread the material would become. Altamont has made tens of thousands of G10 grips for handgun manufacturers. Technological, design and process innovations continued to be the hallmarks of Altamont. In 2007, Merlin Enright joined the company. By 2010, three of Ken Enright's sons were working at Altamont full time. Also, the new robotic sanding division developed during this time. Altamont invested into automation — refusing to outsource or compromise quality. We are proud to maintain our legacy of quality product build here in the USA. We maintain this with American craftsmanship.
Altamont completed its first injection mold grip project with the Taurus PT22/25 Falconia grip
. This is an innovative combination of rubber and wood.
In 2014, Altamont began its Metal Engraving division for firearms engraving and embellishment. Altamont focused on the deep relief engraving and textures.
Typically
absent from the gun industry, or only available by custom engraving masters. We use a combination of a modern approach and old-world craftsmanship techniques. Altamont has produced unprecedented special editions and stunning designs. TALO commissioned the first production engraving project in 2014. The Iwo Jima Colt 1911, a limited edition, One of 300. Its success inspired the editions that followed. Since then, Altamont has engraved or textured 1911's, revolvers, shotguns, and knives. All with our unique deep relief style on guns including Browning, Kimber, S&W and more.